Home
/
Sheneed Cramp Relief Supplement for PMS - free from Menstrual Cramp Relief and Bloating Supports a Healthy Pain and Stress-60 Capsules + Free Sheneed Feminine Cramp Relief Oil for Period Cramps & Leg cramps | 100% Herbal -10ml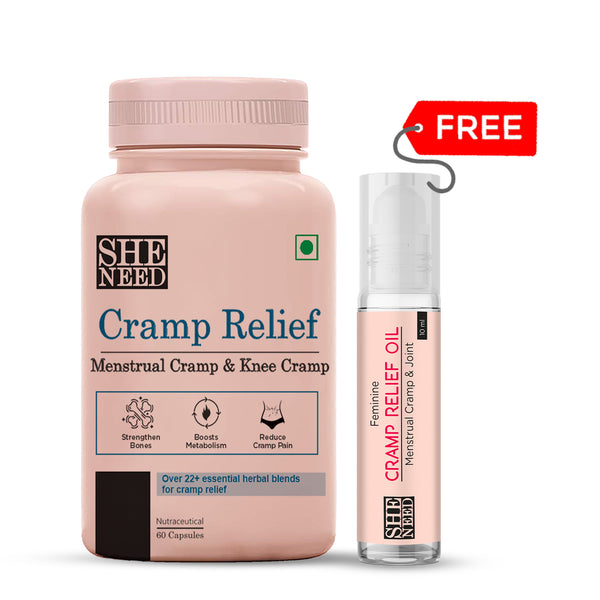 Sheneed Cramp Relief Supplement for PMS - free from Menstrual Cramp Relief and Bloating Supports a Healthy Pain and Stress-60 Capsules + Free Sheneed Feminine Cramp Relief Oil for Period Cramps & Leg cramps | 100% Herbal -10ml
Sheneed Cramp Relief Supplement for PMS - free from Menstrual Cramp Relief and Bloating Supports a Healthy Pain and Stress-60 Capsules + Free Sheneed Feminine Cramp Relief Oil for Period Cramps & Leg cramps | 100% Herbal -10ml
Sheneed Cramp Relief Supplement for PMS - free from Menstrual Cramp Relief and Bloating Supports a Healthy Pain and Stress-60 Capsules + Free Sheneed Feminine Cramp Relief Oil for Period Cramps & Leg cramps | 100% Herbal -10ml
Sheneed Cramp Relief Supplement for PMS - free from Menstrual Cramp Relief and Bloating Supports a Healthy Pain and Stress-60 Capsules + Free Sheneed Feminine Cramp Relief Oil for Period Cramps & Leg cramps | 100% Herbal -10ml
NATURAL BLEND: Sheneed Cramp Relief Supplement is an herb-powered plant-based blend to manage menstrual discomfort caused by PMS. Herbs are naturally soothing & calming helping ease stomach cramps, bloating, breakouts, stress & fatigue.

• SUPPORT METABOLISM: Supports the reduction of unwanted bloats and metabolism weaknesses. Give your body the natural plant extracts and essential amino acids that will support the improvement of your metabolism. Excellent for men and women alike.


• FIGHT STRESS & FATIGUE: Potent roots, fruits, and herbs sourced from around the world. This formula delivers life-giving nutrients that quickly absorb and optimize your cardio energy boost, subside fatigue and boost metabolism.

• IMPROVE NATURAL ENERGY: Chronic fatigue syndrome, or just need an extra boost for your workout – consider energy & metabolism as your companion. Your inner health gets the best it deserves with natural earth grown ingredients. These natural energy pills for men and women will keep you performing at your best.