Home
/
SheNeed Women 40+ Women's Multivitamins & Multiminerals With 25+ Nutrients For Daily Nutrition, Eye, Heart, Brain, Strong Bone & Menopause With Iron, Calcium, Vegan – 60 Tablets AND GET FREE CGG Retinol serum-3X Anti-Aging formula -10ml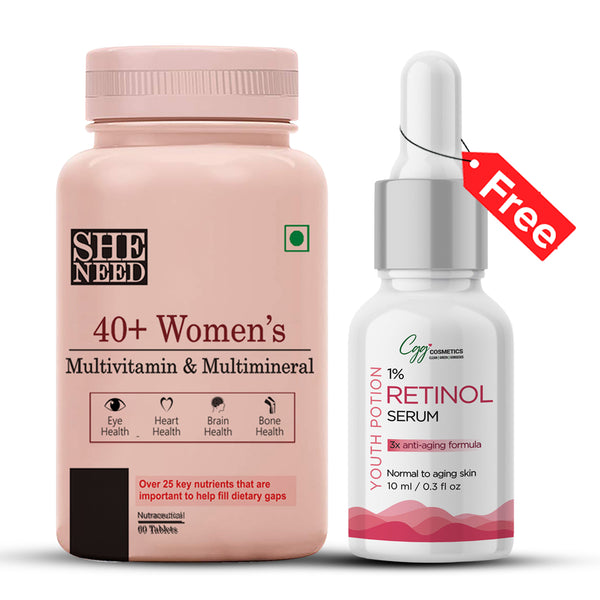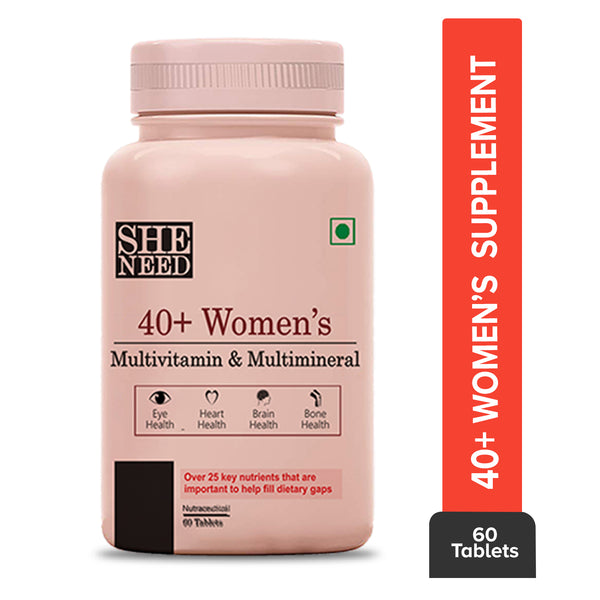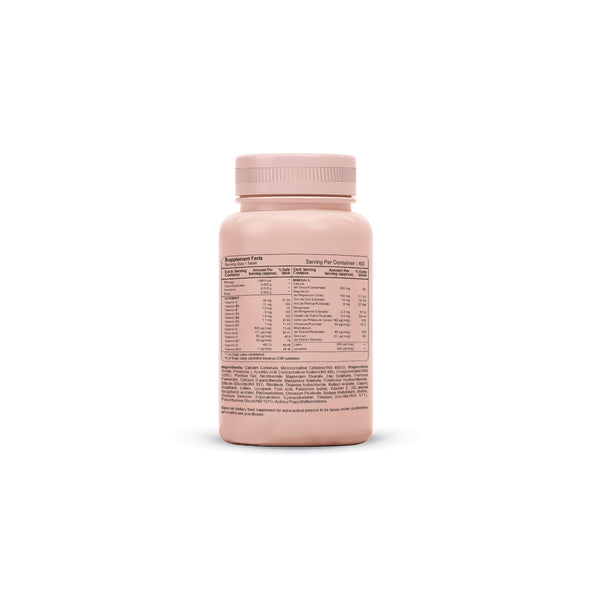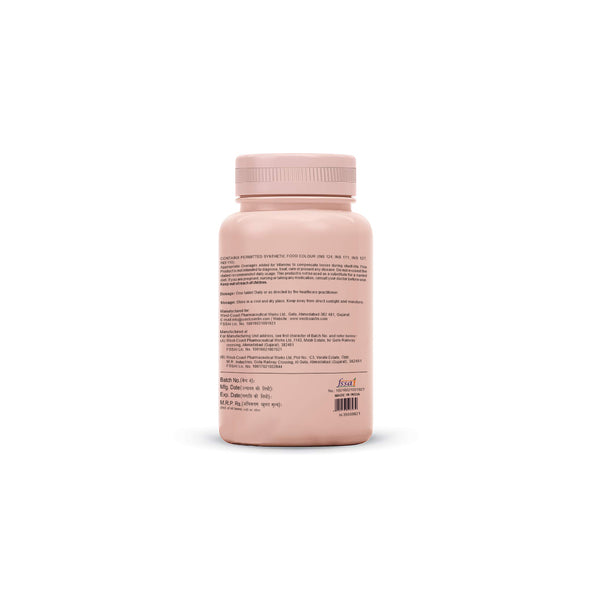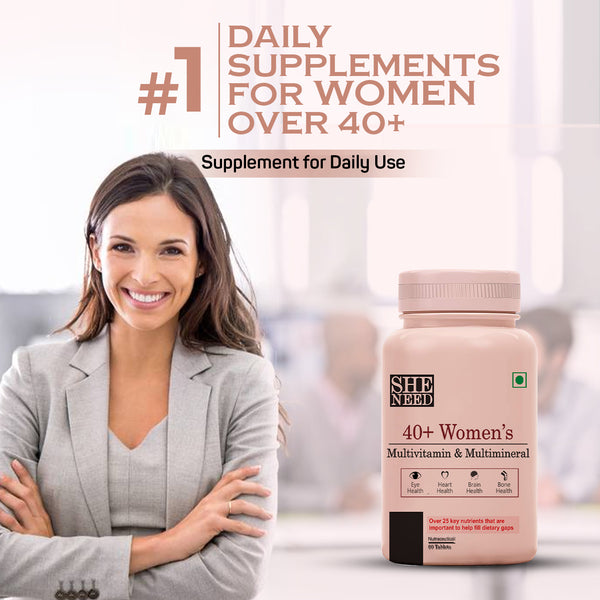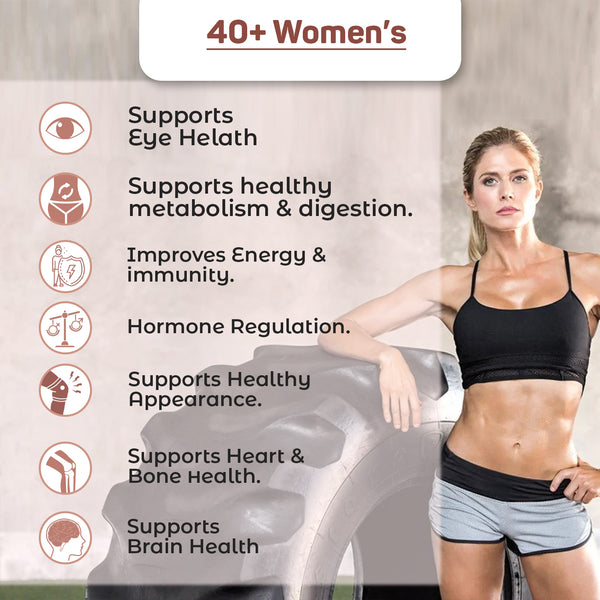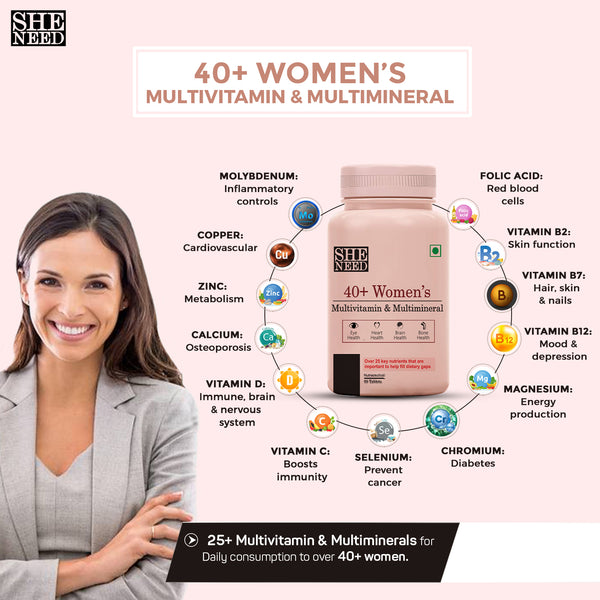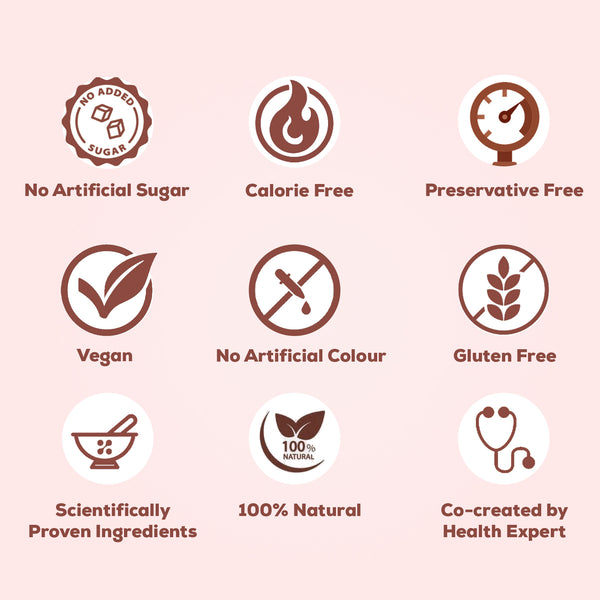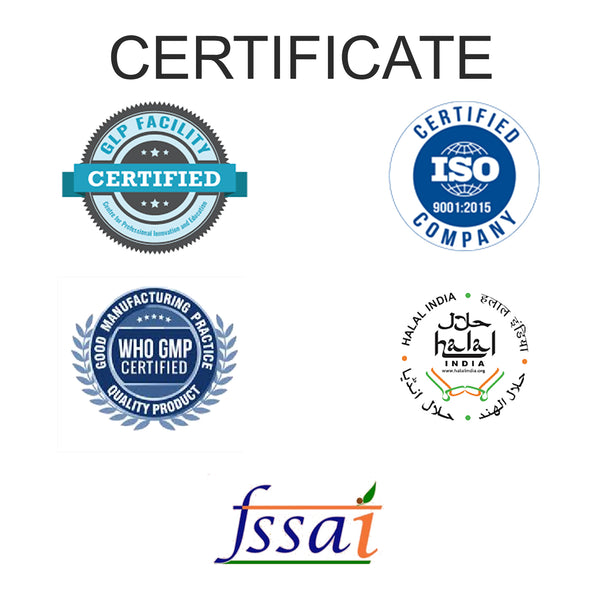 SheNeed Women 40+ Women's Multivitamins & Multiminerals With 25+ Nutrients For Daily Nutrition, Eye, Heart, Brain, Strong Bone & Menopause With Iron, Calcium, Vegan – 60 Tablets AND GET FREE CGG Retinol serum-3X Anti-Aging formula -10ml
SHENEED: BEAUTY
SheNeed Women 40+ Women's Multivitamins & Multiminerals With 25+ Nutrients For Daily Nutrition, Eye, Heart, Brain, Strong Bone & Menopause With Iron, Calcium, Vegan – 60 Tablets AND GET FREE CGG Retinol serum-3X Anti-Aging formula -10ml
SheNeed Woman 40+ supplements help to promotes the good bones and back problem. It provides a combination of nutrients to support vitality, stamina, digestion, immunity and has anti-inflammatory properties. This multivitamin is designed for the bold fearless woman to help her maintain energy levels throughout the day. It is specially formulated for the active woman in you and takes care of your daily nutrition requirement post the age of 40+.
Vitamin C, Vitamin D, Vitamin E,Vitamin A, Vitamin K, Vitamin B3, Vitamin B5, Vitamin B6, Vitamin B2, Vitamin B1, Vitamin B7, Vitamin B12, Calcium, Magnesium, Zinc, Manganese, Copper, Chromium, Molybdenum, Selenium, Lutein, Lycopene, Folic Acid

Suggested Use:- Consume at your own discretion or as per labeled recommended usage.
Sheneed Women is a supplement specially made for filling women's daily nutrition requirements. Over 24 key nutrients that are important to help fill dietary gaps. Sold in more than 5 countries.
HEALTHY APPEARANCE: Biotin, Vitamins A, C, and E help women maintain a healthy appearance .As women age. It has extracts to enhance stamina and energy for a healthier lifestyle.
IMMUNITY: Antioxidants, such as Vitamins C, E, and Zinc, to help support normal Immune function. Daily intakes of vitamins are essential for good health because your body doesn't produce or store it Vitamin B6 is vital to supporting biochemical reactions in the immune system.
WOMEN'S ONE DAILY SUPPLEMENT: Specially formulated multivitamin for women packed with vitamins and minerals that support immune system and overall health.